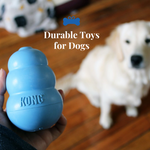 Most dog parents know that chew toys for dogs can improve your pups dental health, relieve stress and anxiety, and reduce boredom.

So, it's no wonder that "durable dog toys" is one of the most googled phrases when it comes to finding chew toys that will last.

Toys like the Kong extreme are made from the most durable rubber and designed to withstand the toughest of chewers.

You can find a range of sizes (don't forget the puppies!) and colors available online at the link below and in-store today.
https://lilysbathsandbiscuits.com/search?type=product%2C&q=kong
Happy chewing! 🦴