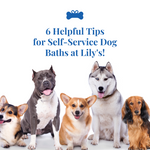 6 Helpful Tips for Self-Service Dog Baths at Lily's!
At Lily's, our goal is to provide a calming and happy environment for both you and your pup to enjoy our self-service bath stations.
Here are a few helpful tips for before you arrive and during your bath experience to help make your visit seamless!
Let your pup take care of business.

Some dogs benefit from an extra dose of CBD pre-bath, nail-trim, or car ride.

Your state of mind can directly impact your pet's emotional state. Try to bathe your dog when you aren't stressed or pressed for time.
While at Lily's:
Encourage your dog to step into the tub on their own with one of the yummy treats at the tub.

Ask questions! The staff at Lily's will answer any questions you have and provide personalized bath tips specific to your dog.

If your dog tends to be reactive or responds positively to low levels of activity, try to plan their bath on a weekday or at last call of the day. Early to mid-week tends to be less busy at the baths.